Asiaweek, 11 November 1988
Trying to Get Together
In the Rangoon home of a high-ranking officer of the Burmese military, the telephone rings. He answers, and finds himself listening to the mother of his prospective son-in-law. She tells him the wedding is off. "I can't have my son marry a murderer's daughter," she says bluntly. In another military household, the colonel's wife has not spoken to her husband for a month. And in yet another, an official of the election commission is involved in a heated argument with his niece: "We would welcome support from any foreign power just to get rid of these barbarians," says the young woman. Responds her uncle: "You are longing for a step-father to slap you in the face." "A step-father who slaps," she says defiantly, "it more welcome than the father who is killing us."
Those divisions within elite families in Burma, all of which boiled up in recent weeks, are a profound an indicator as any of how deeply fractured Burmese society has become. As the military regime of Gen. Saw Maung presses ahead with its still-vague plans for an election, the fissures are being reflected in the political scene. Sources say the National Unity Party, loyal to behind-the-scenes strongman Ne Win, has continued to seek out opposition groupings which will affiliate with it. The objective: greater credibility amid the near total public aversion n to the ruling group. The NUP is offering up to 500,000 kyats ($80,000), plus election expenses later, to parties that will submit to its control.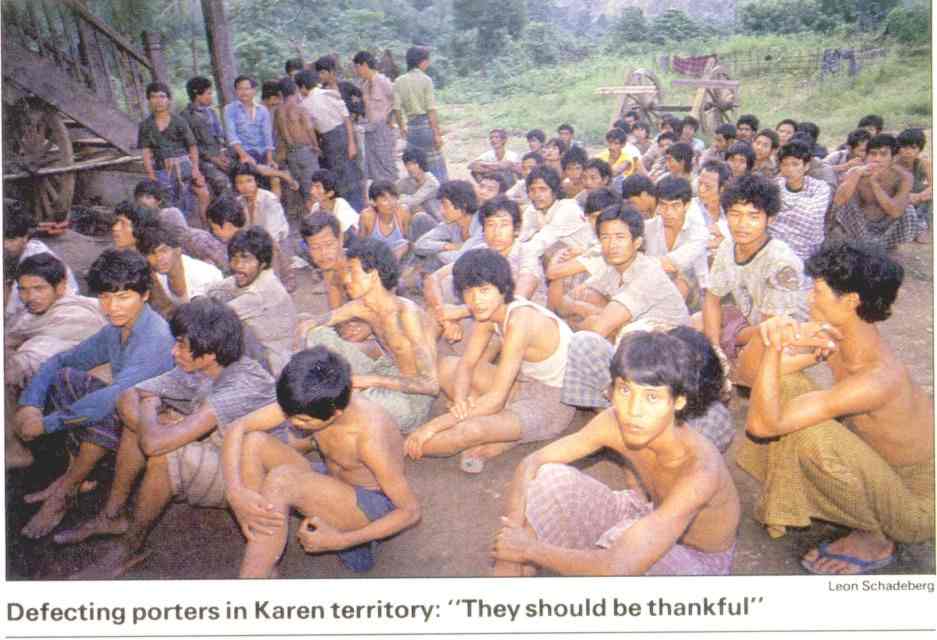 By mid-week, some 78 political organisations had registered with the election commission. For oppositonists, however, electioneering is not easy. "There have been arrests, manhandling and even refusal to permit the erection of party signs," notes one observer in Rangoon. Government employees have had to sign pledges not to join any political party. The regime has also banned any political activities "intended to bring about the disintegration of the armed forces." Oppositionists were making attempts at cobbling together a unified front against the NUP, however. On Oct. 19, the newly-revived Anti-Fascist People's Freedom League (AFPFL) tried to convene a conference of registered organisations. Only seventeen of the 28 then existing turned up. Prominent among absentees was the National League for Democracy (NLD), the political vehicle of key dissidents Aung Gyi, Tin U and Aung San Suu Kyi. The three were taking turns touring the Burmese hinterland, stumping for support.
The NLD had more success in organising another unity conference last week. In a joint statement on Oct. 28, 43 of 48 registered groups voiced support for the more than 3,000 students who had fled to the border redoubts of insurgent groups since Saw Maung's takeover Sept. 18. The government had announced a Nov. 18 deadline for the students to return, through any of 27 "receiving centers" opened on Oct. 14. Those who had not come back by the deadline, declared the government, would be considered insurgents. By last week, according to official figures, some 500 students had returned. The 43 groups called on the government to lift the deadline, but the demand was rejected. Government spokesmen insisted that returning students would be received "without malice." However, reports surfaced of maltreatment in the receiving centres.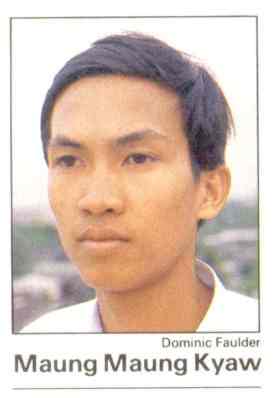 In Bangkok, a key Burmese student leader estimated that fewer than 2,000 students were still in the southeastern border regions. Maung Maung Kyaw, who claims to represent militant students dispersed along the Thai-Burmese frontier, reckoned another 1,000 had returned to Rangoon. "We keep students in remote camps along the Thai-Burma border," he told Asiaweek, "but they don't like [being with] the rebels." Only about 400 students and other civilians had joined the Karen National Union insurgents, he said. "The Karen forces are not giving us weapons because they don't trust us," he said. "They say the students can disrupt them. But the students are training under the KNU." There were, he believed, up to 50 government spies among the border-based students. He added: "Our armed struggles cannot get going quickly. We haven't enough money, food, medicine and other requirements. Many students in the jungle have malaria."
A college-mate of Min Ko Naing, Rangoon-based leader of the All Burma Federation of Students' Unions (ABFSU), Maung Maung Kyaw heads the Burma National Liberation Party with a claimed membership of 3,000. "Min Ko Naing is the leader inside Burma," explained Maung Maung Kyaw, who says he is still an ABFSU central committee member. "I am the exiled leader. We are friends separated for the revolution. So9me time, we'll come back together again." In Bangkok, Maung Maung Kyaw was getting some assistance from retired Maj.-Gen Sudsai Hasdin, a former Thai intelligence officer known for his involvement with the violent, ultra-rightist Red Gaur movement of vocational students in the 1970s. Sudsai said he was operating in a private capacity and had provided only humanitarian aid to the Burmese students. Maung Maung Kyaw was later arrested by Thai authorities and sent back to the border.
Also showing up in the Karens' frontier area were men who had defected from duty as dragooned "porters" for the Burmese Army. They told reporters they had been arrested in Rangoon, threatened with execution if they tried to escape, and forced to carry supplies in dangerous insurgent areas. Back in Rangoon, an army captain defended the much-criticised program this way: "We feed them a meal and give them a daily wage of 8 kyats. They should be thankful for the employment."
ASIAWEEK/ 11 NOVEMBER 1988.