The Pressure Builds
Asiaweek, 2 September 1988.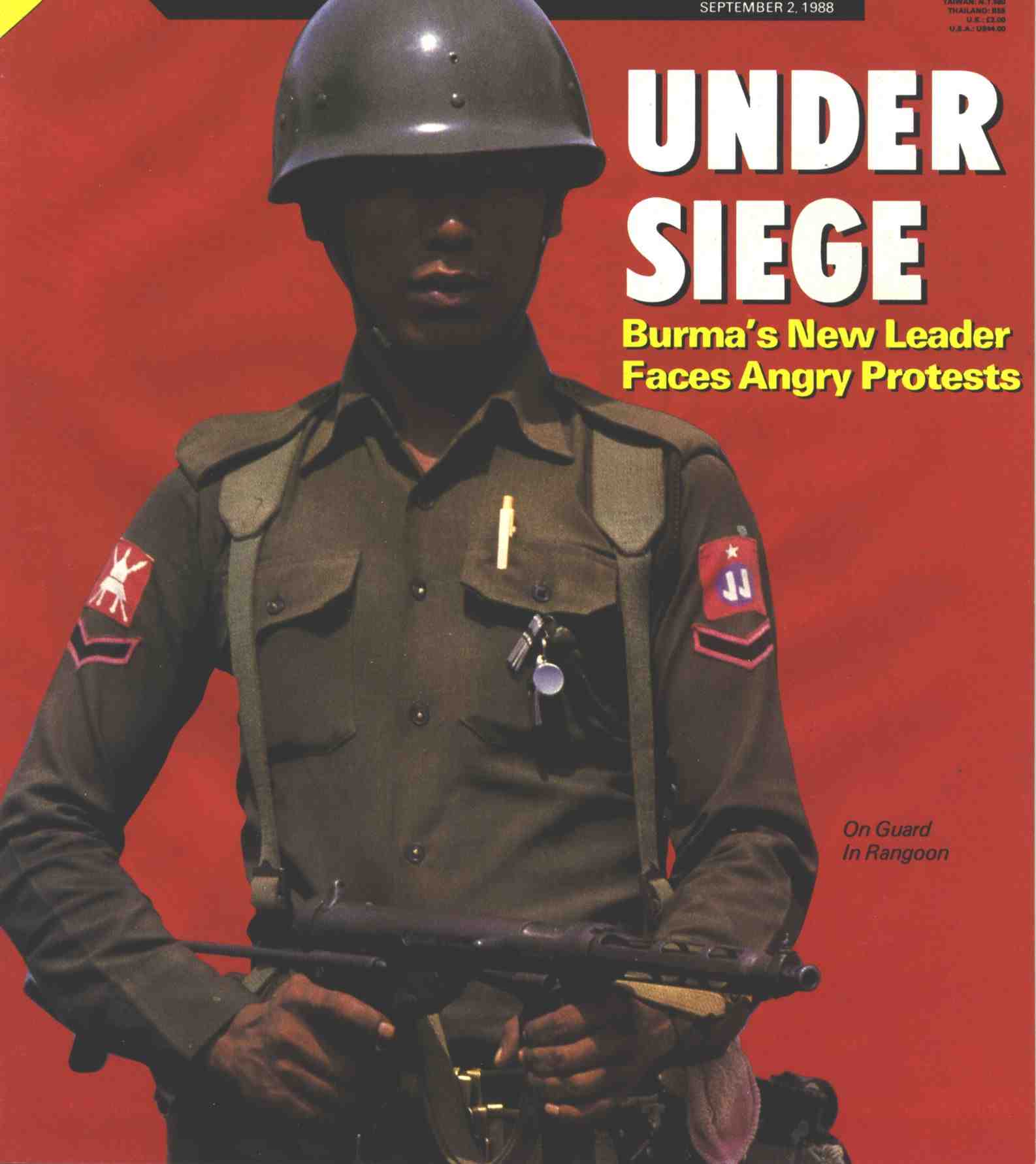 Hundreds of dying and wounded crowded the open wards and balconies of the Rangoon General Hospital, a sprawling colonial-style building in the heart of the Burmese capital. The bandages on many patients were encrusted in blood; there were not enough rolls to dress their wounds again. Relatives sat helplessly at the bedsides of loved ones grimacing in pain; anaesthetising drugs were running out. Lying quietly on one bed was a boy, his groin blown off by a bullet. Most the injured around him were also youthful. They were among the lucky survivors of the mayhem of Aug. 8-12, when rifle-toting soldiers fired on the crowds of students, monks and workers who took to the streets demanding democracy and economic reform. Outside the hospital. the protests continued. Some 5,000 people had congregated within the concrete walls of the hospital compound. Many more had climbed on to the roof to hear the speakers below. Each time army trucks trundled past the building, people looked apprehensively towards the road.
It was Aug. 20, the day after Attorney-General Maung Maung had been named as Burma's new president and chairman of the ruling Burma Socialist Program Party (BSPP). Compared with Sein Lwin, the strongman who was forced by public fury to quit on Aug. 12 after only eighteen days in power, Maung Maung was a moderate. He was also the sole civilian in the BSPP central committee. People had dubbed Sein Lwin "the Butcher" for his brutal suppression of earlier uprisings. The worst nickname given to the new leader was "Puppet" because of his close affiliation with Ne Win, the autocrat who ruled Burma for 26 years before his surprise resignation in July. Yet, to the agitators who had confronted armed troops with nothing more than homemade weapons and anger, replacing Sein Lwin with Maung Maung was not enough. His appointment fell far short of their demand for an end to totalitarianism.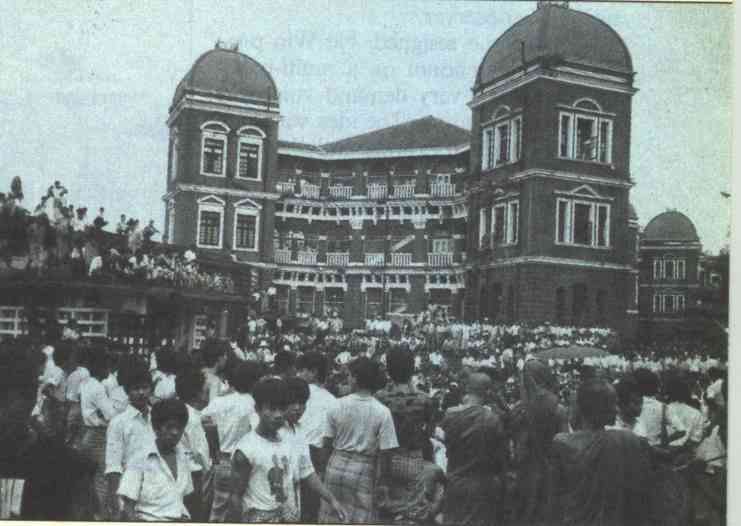 Disappointed, they flocked to hear dissident speeches at the Rangoon General Hospital, which became the focal point of popular protest. One masked monk began a diatribe against the government, then halfway through whipped off the handkerchief covering his face as the crowd cheered. Speaker after speaker pointed out that in his first address to the nation, the new leader had offered no hope for greater political freedom. "Either the government just doesn't understand or it does and is trying to outface the situation," noted one Western diplomat in Bangkok. "The people are not clamouring for a new leader but a system which will be able to produce able leaders." Concurred a Burma watcher: "They won't be happy until this organ, the BSPP, is dissolved."
The words were prophetic. Not long after Maung Maung's accession, protests again flared across the country: from Tavoy in the south to Taunggyi and Mandalay in the north. On Aug. 23, the second consecutive day of demonstrations, more than 250,000 people paraded through Mandalay while another 200,000 marched in Tavoy. Reports said civil administration in the two cities was breaking down, with Buddhist monks and students taking over. The day before, thousands had reportedly come from Mandalay and Tavoy, as well as from Yenangyaung and Pegu to join a rally in Rangoon. The procession from Yenangyaung was particularly symbolic: a half-century ago, Burmese workers from the northern city had marched to Rangoon in a protest against British colonial rule. Last week's agitators came on foot or in jeeps, cars and trucks, but were turned away at barricades by troops who had sealed off the capital.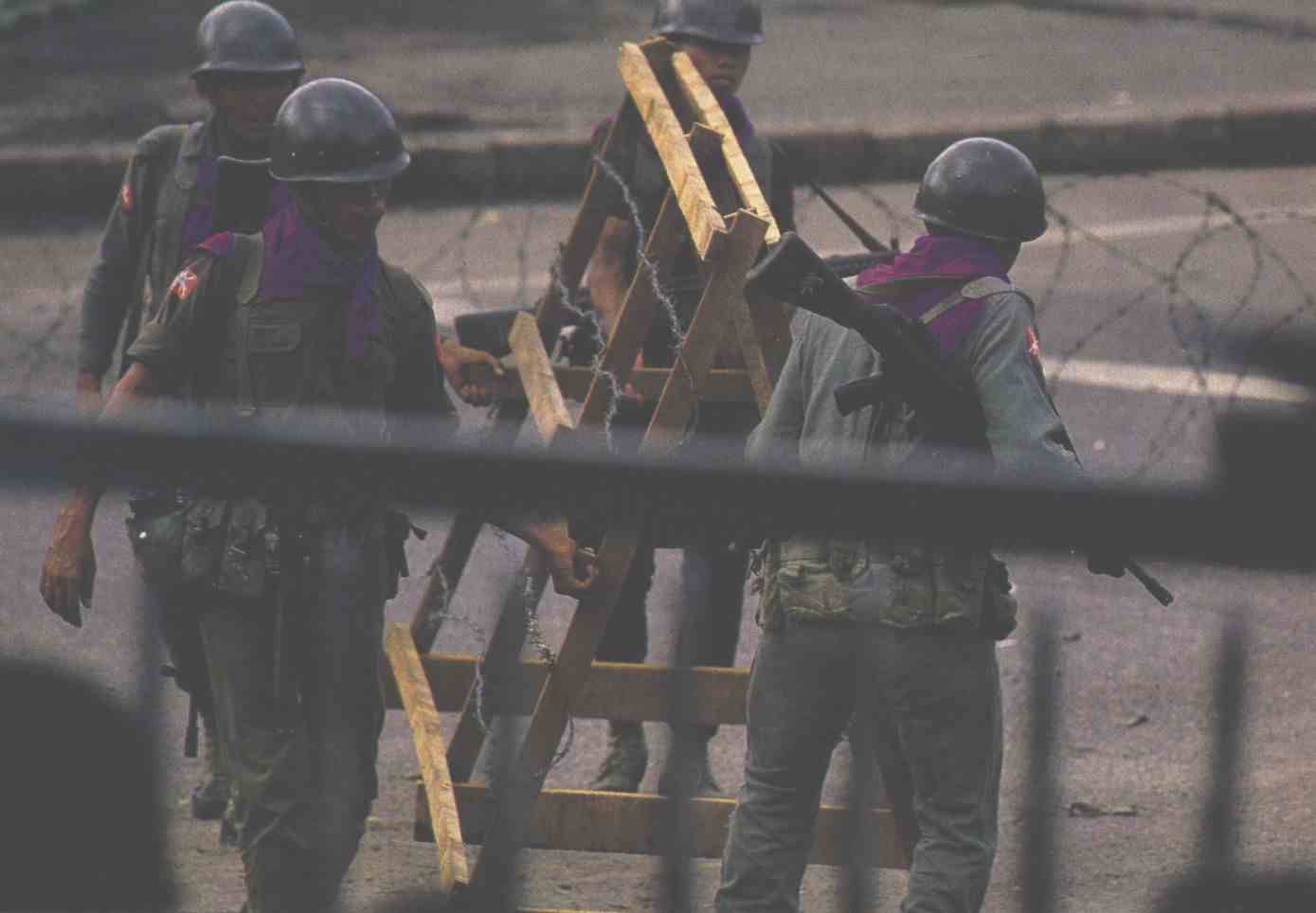 Despite the northerners' absence, the crowds that milled through the streets of Rangoon on Aug. 22 were several thousand strong; next day their numbers had swollen to at least 100,000. For the first time, the processions included the country's non-official elite -- white-robed doctors, lawyers in collars, well-known singers, actors and writers, as well as prominent Muslim and Buddhist leaders. Witnesses said the mood was festive and good-humored. Marchers alternately sang the national anthem and chanted "strike, strike" as they marched beneath banners proclaming, "We want nothing but democracy." Sometimes they stopped to chat with the soldiers who stood warily nearby but did not interfere.
There was little suggestion of the fear and anger of the Aug. 8-12 street protests, which had led to Sein Lwin's ouster and to an estimated toll of well over 1,000 lives. by contrast, last week's demonstrations were largely peaceful, although there were reports of soldiers shooting marchers in the eastern city of Moulmein and in Tatkon, 380 km north of Rangoon. The state-run raido said protestors led by red-robed Buddhist monks had attacked and looted a customs building in Moulmein. Martial law, imposed on Rangoon three weeks earlier, was lifted on Aug. 24.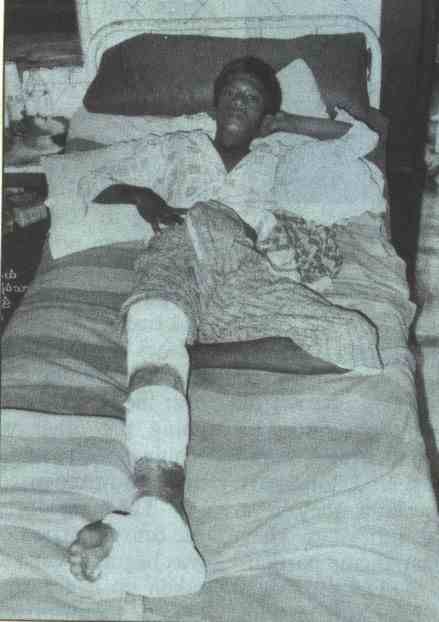 Although Maung Maung, 63, talked in his maiden address of extinguishing "the fire of anger with the cool waters of love," that was easier said than done. The concessions offered by the BSPP were limited: civilian leadership, a relaxing of economic restrictions and the setting up of an eleven man commission of inquiry into the protestors' grievances. Hopes for political restructuring, however, were firmaly quashed by the new leader on the grounds that the 1974 Constitution, which provided for exclusive rule by the BSPP, had be4en endorsed at the time by a referendum. "We can't ignore the bitter results of this system," said one youthful protestor, "so we will fight for change."
Public discontent was also stoked by a strongly worded statement by Suu Kyi, the daughter of burma's founding father, Aung San. London-based Suu Kyi, who was in Rangoon to visit her aged mother, proposed setting up an independent people's consultative committee of non-BSPP members which would bring in a multi-party system. Her plan was somewhat similar to one proposed by the students in a recent letter to the BSPP central committee. They called for a caretaker government for a one-year period to provide conditions for democracy, including freedom of the press. After some time in the interim period, suggested the letter, a constituent assembly would be held to write a new constitution.
To many Burmese, Maung Maung's appointment was a gesture of small significance. They believed that Ne Win, despite his resignation as party chairman, still held sway over the BSPP and over his onetime aide and biographer Maung Maung ("maung" means younger brother in Burmese). Although he has the most distinguished law career in the country, Burma's new president owed his swift elevation within BSPP ranks to Ne Win, the 77-yearold strongman who currently lives along Rangoon's Inya Lake in a luxurious villa heavily guarded by troops. A helicopter, its engine idling, is said to stand near the house ready for take-off anytime.
Maung Maung studied law in Britain and lectured at Yale. He was appointed chief justice by Ne Win in 1962, not long after the military strongman overthrew Prime Minister U Nu in a coup. Maung Maung wrote the 1974 Constitution which formalised Ne Win's "Burmese Way to Socialism," an amalgam of militarism, Buddhism and socialism. Elected to the BSPP central committee in 1976, he was fifth in the party hierarchy at his resignation in 1985. Ne Win's sudden departure on July 23 was followed by a series of shuffles with in the cabinet and party ranks. Maung Maung returned to the central committee and was named Burma's Attorney-General.
With his keen legal mind, observers said Maung Maung would be the ideal person to rewrite the Constitution to loosen economic controls. The party approved a plethora of economic reforms when Sein Lwin took over and analysts contended that the government had little choice but to implement them as swiftly as possible. Politics, however, was an entirely different matter. Burma e4xperts sad Maung Maung would not attempt any restructuring with out directions from his mentor. "He has the mental equipment but can't do anything without the blessing of Ne Win," noted one observer.
Before he resigned, Ne Win proposed a referendum on a multi-party system -- the very demand voiced in the recent agitation. The idea was shot down by the BSPP, apparently because party members had no intention of giving up any of their considerable powers. Maung Maung was expected to take over as president at that time, while Sein Lwin led the party. Analysts are divided on what happened behind the scenes. Some believe that Ne Win himself orchestrated Sein Lwin's installation in both posts and the rejection by party members of his referendum proposal. Elaborated one Burmese source: "Maung Maung is devoted to Ne Win and will step down if Ne Win tells him to. Ne Win will step in as a saviour and immediately announce a multi-party system No one will then be able to criticise Ne Win while he gracefully exits from politics."
If such a scenario were to take place, who would provide the best alternative to Ne Win? Observers reckoned there was no recognizable person with the ability to draw mass support, except perhaps for Aung gyi, Ne Win's former lieutenant who last week was still languishing in a Rangoon jail. Aung Gyi's open letters to Ne Win urging political reform were circulated in Burma over the past few months and helped trigger public ire against the regime. In recent weeks, posters on Rangoon walls have called for the return to Burma of Aung San Oo, the son of freedom fighter Aung San. Said to be working at the U.N. headquarters in New York, Aung San Oo was reportedly denied a visa to return home. Some also mentioned the name of U Nu, the venerable ex-premier who last week offered to media between the military-dominated government and student agitators.
Indeed, students have again emerged as a formidable force in Burma. Hundreds of underground student groups exist all over Burma, in defiance of a ban on student unions following an uprising at Rangoon University in the mid-1970s. Observers point out tha tthe students were able to spearhead the recent movement for democracy because they were the most mobile group in a society riddled by thousands of government informers. The illegal student unions have a relatively well-developed communication network, maintaining contact with one another through envoys.
Meetings among leaders are held in emergy situations. Student bigwigs from all over the country got together secretly on Aug. 16 to plan further agitation and lay down a goal for the movement. "We don't have any one big organisation," said one leader, "but we have common ends." For them the outster of Sein Lwin was only a small victory. The battle for democracy still lay ahead. To achieve that end, said some student leaders, they would even make a marriage of convenience with rebel insurgents. "The students will keep the pot warm," noted one observer. "They will not let it cool." A poster outside Rangoon General Hospital put the youngsters' determination more grimly. It said: "We will fight to the last drop of blood."
ASIAWEEK, 2 SEPTEMBER 1988.