Asiaweek, 24 March 1989
Student Dissent
One year ago, a petty dispute over the playing of a cassette tape in a Rangoon tea-shop flared into a violent conflict between students and residents. When police moved in, one student, Maung Phone Maw, was killed. Riots ensued as the unrest exploded into widespread anti-government protests. Throughout a summer of discontent, the students spearheaded pro-democracy strikes and rallies. But when Gen. Saw Maung seized power in September, thousands of them fled the cities to avoid recrimination. It was left to the fledgling political parties to press the campaign for democratic elections.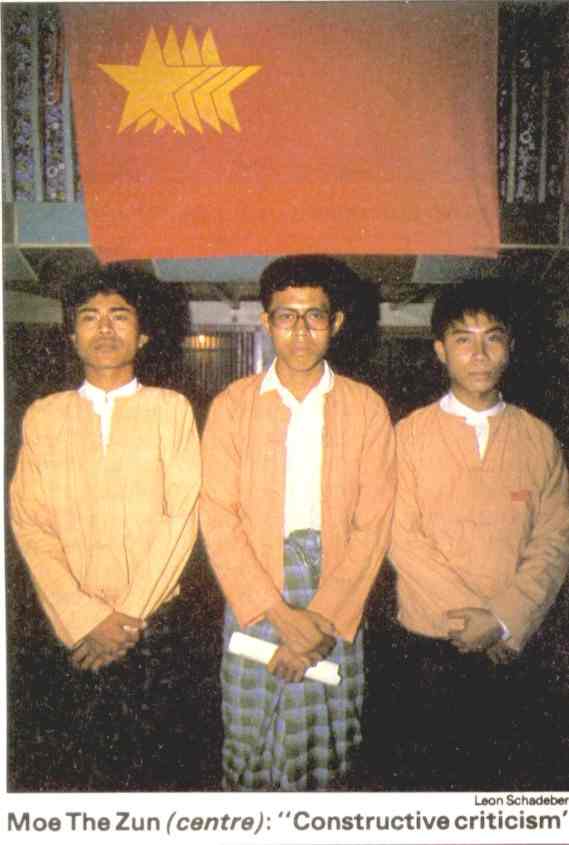 Among the opposition leaders who attracted strong student backing was Aung San Suu Kyi, 43, daughter of Independence hero Gen. Aung San and now general secretary of the front-running National League for Democracy (NLD). Late4ly, however, the students have almost completely severed their links with the NLD. Although many say they remain sympathetic to the party, most have allied themselves with any of six multi-party coalitions that have emerged. These now group more than 100 of 233 registered parties.
The All Burma Federation of Student Unions, led clandestinely by "Min Ko Naing" (a nom de guerre meaning "Conqueror of Kings") and Moe Thee Zun ("Heavy Rains"), is dismayed by the NLD's political methods. The student leaders view Suu Kyi's recent series of up-country tours as designed to enhance her personal popularity rather than to project true leadership and present a viable and constructive political platform. Moe Thee Zun has written an eight-page critique of Suu Kyi's performance, which he labels "constructive criticism".
The students want the political parties to back their demand for an interim government to be installed to draw up a new constitution before elections are held. Many feel the parties' preoccupation with election preparations is a capitulation to the Saw Maung regime. They object to the military holding elections without a constitution, believing the polls would not be free and fair. In January, saw Maung told Asiaweek that a new constitution would be drawn up "after the new government comes into power."
In apparently going along with this, the political parties have disappointed the students. They recall that last summer many of their number sacrificed their lives in demonstrations whose goal was the "destruction of the one-party system" and the "formation of an interim government." The first part has been achieved, say the students, but not the second. As well, they want the opposition to forcefully condemn the regime for political and economic suppression, military "arrogance", and distortions in the media. Said Min Ko Naing recently in an underground leaflet: "We will carry on our shoulders those oppositionists who provide correct leadership."
Last week, amid heavy troop movements in Rangoon, students commemorated the March 13 anniversary of Maung Phone Maw's death. The event, using an outdoor platform and public address system within Rangoon Institute of Technology compound, attracted about 3,000 students as well as prominent oppositionists, including Aung San Suu Kyi and her NLD colleague Tin U. In speeches, the students recalled the sacrifices of their colleagues last year. Militants and moderates had earlier clashed over the form of the service, and the military was clearly worried. Some students were reportedly detained outside the compound. However, uniformed troops stayed away from the service and the event remained peaceful.
ASIAWEEK/ 24 MARCH 1989.