Asiaweek, 18 November 1988
Paying the Price
The rosters are a regular feature in Burma's official media. Every day since early October, Newspaper columns and radio and television broadcasts have listed the names of "well-wishers" who have pledged donations to the armed forces in honour of their "valiant fight against insurgents." The money, now estimated to total hundreds of thousands of kyats, is ostensibly to benefit the families of troopers killed or wounded in action against Shan and Karen separatists and the Burmese Communist Party. But Rangoon residents say that, in many cases, the donations are less than willingly given.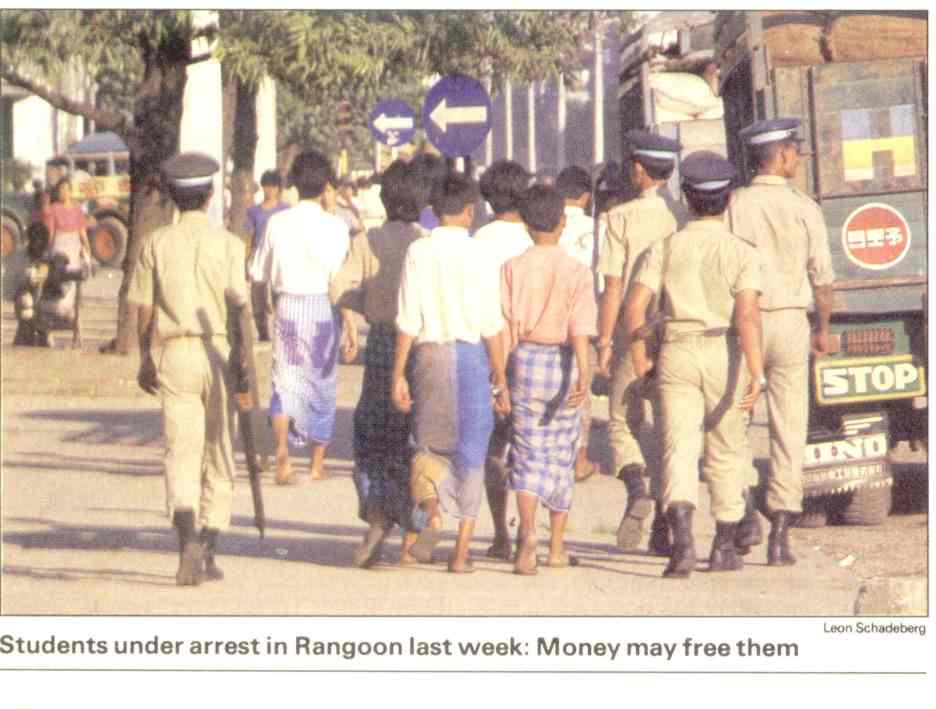 People leaving banks after managing to draw cash are apprehended by soldiers who press them to "donate" upwards of 200 kyats ($32) each. At some government offices, employees have been requested to fork out 2 kyats per day towards the military's fund. Many families have also paid substantially higher amounts to get back students arrested during the demonstrations of last August and September or conscripted into service as "porters" for military patrols in border areas. "I know of four families who paid between 10,000 and 18,000 kyats each to ransom their sons after they were arrested [as recruits] for porterage," says one well-informed resident. "It is impossible to know how much of the money goes into donations. The only gold buyers now in Rangoon are military personnel." Arrests of students and young people have continued. Many families keep their young men indoors after dark.
Rangoon observers say the daily donation announcements are designed to portray public solidarity with the military. But there seems to be little chance in the mood of deep antipathy. Nor are the lists very credible. One man named in October as giving 1,500 kyat denied it to friends. "I couldn't justify giving a 5-pya bit for this cause," he said. Another family was reported to have given 20,000 kyats. They said the donation was made in 1986.
Creating more ripples was the government's continue purge of civil servants deemed to have participated in the two months of demonstrations that preceded the military coup last Sept. 18. Especially hard-hit were the Posts and Telecommunications Corporation, which kept international communication n open, the Irrigation Department, where workers refused to help move heavy military armour, and the Road Transport Corporation, which brought demonstrators in from the suburbs. At the Foreign Ministry, 41 officers -- many recalled from overseas -- have been retired or asked to resign for such offences as declaring support for the protesters. Last week three Burmese diplomats in Canberra asked for political asylum in Australia.
The disaffected also include employees of the no-defunct Burma Socialist Program Party, sacked or retired now that the political wing of the Saw Maung regime is embodied in the newly constituted National Unity Party. When told their servies were no longer be needed, some disgruntled BSPP staff carted away office equipment and furniture, destroying what the could not take with them. The NUP has its own vandalism problem, however. Despite round-the-clock security, its new headquarters in Rangoon's kamayut district is showered with stones each night.
ASIAWEEK/ 18 NOVEMBER 1988.