Masterful inaction
Far Eastern Economic Review, 2nd February 1989
Authorities drag feet on election pledge but react to foreign criticism by Bertil Lintner in Rangoon.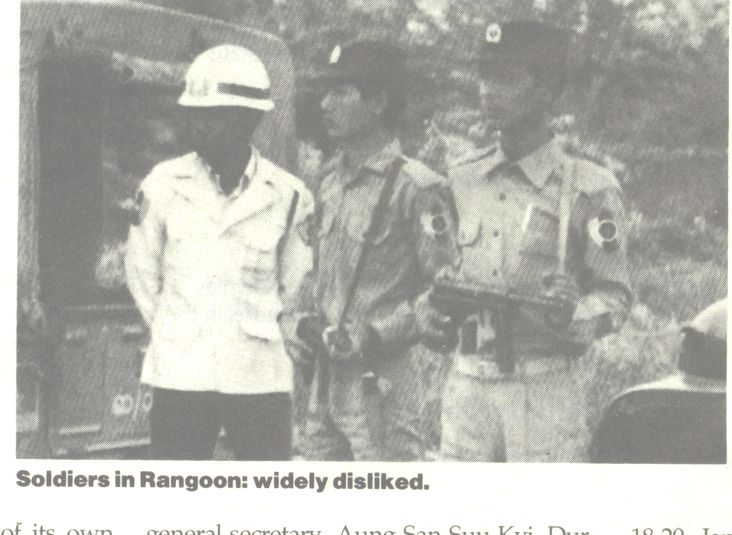 Four months after Gen. Saw Maung's bloody coup on 18 September, Rangoon appears calm. The military presence has been reduced to a token force, buses are running normally and business is brisk in well-stocked shops and markets. The dusk to dawn curfew has been relaxed to run from 10 p.m. to 4 a.m.
But the capital's outward tranquility is deceptive. The city's teashops are crammed with idle young people full of bitter memories of the 8-11 August and 18-20 September killings by the military of hundreds -- perhaps thousands -- of people during a nationwide, student-led uprising.
Burma's universities suspended classes after anti-government demonstrations in June 1988, and all schools were closed on 8 August. During the turbulent month that followed, mass rallies and other anti-government activities kept the students busy.
When asked about Rangoon's peaceful mood, a resident said: "It's only on the surface. Underneath, we're all waiting for the next big thing to happen." However, no one seems to know what the next big things will be. Diplomats and Burmese sources assert that Saw Maung's military government is widely hated and that only a fear of being shot is keeping people off the streets.
Part of the Burmese tragedy is that the authorities are still clinging to the myth that those killed by the troops last year after the coup were "looters and other unsavoury elements" and that the army saved the country from a "communist conspiracy."
"The military is incapable of understanding the sensitivities of its own people," an analyst said. " A reconciliation is unlikely as long as the ruling junta ignores the deeper causes of dissatisfaction. Burmese society today is deeply divided and, hence, still potentially explosive.
The only event capable of breaking the impasse and creating a rapport of sorts between the military and the public is the holding of general elections, which were promised by the military authorities last September. Brig.-Gen. Khin Nyunt, secretary to the ruling State Law and Order Restoration Council (SLORC), told visiting foreign journalists on 20 January that no date for elections had been set. And he gave no indication of whether they would be held this year or next.
Instead he alleged that "antagonism" among Burma's 182 registered political parties was the main reason why law and order could not be said to have been restored -- a requirement set by the SLORC that must be met before any elections. In the meantime, the SLORC has pladged to improve the country's poor standard of living and to regularise its shaky transport system.
the political parties accuse the military of deliberately delaying the elections and hindering their activities. The National League for Democracy (NLD), Burma's main opposition party, has written to the SLORC asking it to set an elections date, but it has received no response.
The military regime has also come under fire for allegedly arresting 13 NLD workers who, in December 1988, helped organise a trip to Mon state for the league's popular general secretary, Aung San Suu Kyi. During a recent tour of the Irrawaddy Delta region, southwest of Rangoon, army troops fired shots in the air to disperse crowds which had come to greet her. Brig.-Gen. Myint Aung, the region's army commander, is accused of ordering the arrest of NLD organisers and hibing electricity and water supplies to the party's local headquarters cut.
While the NLD has emerged as the strongest opposition force from among Burma's plethora of new political parties, the National Unity Party (NUP) -- which ruled the country for 26 years under the name of the Burma Socialist Programme Party (BSPP) -- is hiving server difficulties in re-establishing its former influece. Officially, the military is not supposed to involve itself in politics, but the NUP's leading cadres, including its chairman Tha Kyaw, are all former BSPP men with close army connections.
"Out in the countryside, the old BSPP people are back, sitting in the same chairs, in the same offices, doing the same jobs," a Burmese source said. "In that sense, theirs in difference."
Recently, the SLORC prohibited political parties from putting up signboards at offices below township level. The official explanation was that it "would look so ugly if all the 182 parties put up such signboards in a small village." The real reason for the limitation, diplomatic and Burmese sources say, is that the military, having tacitly conceded defeat in the urban areas, is trying to preserve village support for the NUP.
The deep divisions between theopposition parties on the one hand and the NUP on the other, and the military government's delaying tactics and meddling in politics, have pushed some Rangoon residents to consider returning to the streets in protest if the SLORC continues its policy what they call "masterful inaction." Given the hardness of the armed forces, it is unlikely such rallies will be held any time soon.
Meanwhile, the government's decision to invite 46 Bangkok-based Thai and foreign journalists to Burma may signal a new openness on the party of the country's traditionally reclusive authorities. The 18-20 January press tour was the first of its kind since the army seized power in 1962.
The tour came after international criticism of the government's alleged mistreatment of students returning from Burmese-Thai border areas, where they fled after last year's rebellion.
An estimated 7-8,000 students and other pro-democracy activists fled cities and towns across the country after Saw Maung took power and began cracking down on the rebellion. Between 1,900 and 2,000 students have since returned home of their own accord, and about 300 others have been flown back from a Thai military-run repatriation centre at Tak.
The US State Department said on 5 January that as many as 50 students who had returned on their own have been arrested and some have died in custody. The London based human-rights organisation Amnesty International said on 10 January that the Thai authorities were forcing students to return from Tak. A group of about 20 students staged a hunger strike there before they were sent back to Rangoon on 7 January.
Thus the press tour was an attempt to discredit such reports and improve the Saw Maung government's badly tarnished international image, which led to a decision on 13 January by Tokyo to suspend indefinitely all aid to Rangoon. Japan, previously Burma's largest aid donor, gave Y9.5 billion (USD75 million) to Burma in grants during the fiscal year ending 31 March 1988 and a further Y3.7 billion (USD29 million) between then and the suspension.
Prior to Japan's decision, the US, Britain, West Germany and Australia suspended aid to demonstrate their disapproval of the killing of hundreds, perhaps thousands, of of mostly unarmed demonstrators in Rangoon and elsewhere on 8-11 August and following Saw Maung's takeover.
The tour included meetings with student returnees in Loikaw, the Kayah state, Taunggyi, in Shan state, at an air base in Meiktila and in the Rangoon Command's headquarters north of the capital. Major urban centers were avoided, and plain clothes policemen kept up a close whatch over the journalists throught the tour.
When interviewed in the presence of officials, the vast majority of students assured the journalists that they had come back voluntarily and had not been maltreated. Privately, however, several students expressed fear for their safety and said they had been coerced into returning home. During one meeting, a student pressed a not into the hand of one journalist that read: "We do think that if we give thing as they really are, then just on the way back or afterwards we may be seized and beaten."
Wait and See
Foreign businessmen sceptical about investment law
The government's new liberal foreign investment law, issued on 30 November 1988, may be doomed to failure unless fundamental changes are made. An additional list of procedures relating to the law was issued on 7 December 1988 which stipulated, among other things, that foreign currency must be transferred through the Myanmar Foreign Trade Bank, an institution now renowned for its speed and efficiency. There is no foreign banking system in Burma.
Another major shortcoming of the law is the absence of any clear reference to arbitration. A military-appointed foreign investment committee has been given authority to deal with such matters, but foreign businessmen are concerned about what will happen to the committee once the "temporary" military regime is replaced by a freely elected government.
Until the new law was promulgated, the only foreign company allowed to set up a joint venture in Burma was the West German engineering firm Fritz Werner, which makes high-grade machinery for manufacturing weapons for the Burmese army. Major investors have generally adopted a wait-and-see attitude.
Overseas business deals Rangoon has made recently include those in logging, precious stones and fishing, which will provide badly needed foreign exchange for the government without any real risk for the companies involved.
Six Thai companies have secured logging rights to 4.7 million tonnes of logs. The concessions will run for three years, with each company required to fell at least 50,000 tonnes of logs a year.
Bangkok-based Thip Tharn Thong has signed a contract to barter US$10 million of used cars and machinery in exchange for burmese gems, jade and perals, and a Japanese company, Taiyo Gyogyo, has contracted to fish for shrimp in Burmese waters on a trial basis.
In addition, the South Korean giant Daewoo recently signed an agreement with the Burmese authorities for the sale of railway equipment to Burma, and Australian interests are looking into hotel business in Rangoon.
In December 1988, Burma began allowing a limited number of tourists into the country again after suspending tourism during last year's rebellion.
But major industrial investors are still cautions. The main obstacle for economic development in Burma is the still unsettled political situation. A diplomat said: "Until the general elections have been held, the outcome is clear and is likely to provide stability, few foreign companies will dare invest large sums in permanent projects in Burma."
FAR EASTERN ECONOMIC REVIEW/ 2 FEBRUARY 1989.