Asiaweek, 7 Oct. 1988
Hanging in There
INTERVIEW/AUNG SAN SUU KYI
Slim and attractive Aung San Suu Kyi, 43, emerged as a leading opposition figure in Burma purely by chance. The London-based academic was visiting her ailing mother in Rangoon when anti-government protests erupted in July. As the daughter of Aung San, Burma's revered resistance hero, she found herself becoming the symbol of people's hope for democracy. Swepte along by the tide of events, Aung San Suu Kyi joined hands with top dissidents Tin U and Aung Gyi. On Sept. 24, the trio formed the National Democratic United League, later renamed the League for Democracy. Its aim: uniting pro-democracy forces in the country against the recently installed military regime. Next day, Aung San Suu Kyi spoke with an Asiaweek correspondent. Excerpts from the interview: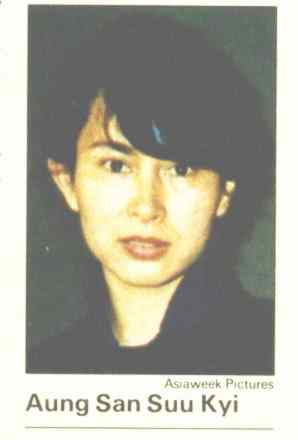 Why was the opposition initially so disorganised? It was difficult to organise in the beginningb because it was a movement that started from teh people -- an upsurge -- and one felt very hesitant about coming forward and saying, "Right, we'll tell you what to do."
Who is in this new league? U Tin U, U Aung Gyi and myself. We decided it's time we had a proper organisation from which we can direct the democratic process ... We will invite [ex-premier] U Nu if he would like to come in. We'll invite people either as individuals or as groups. The students will, I hope, support the union. I'm sure they will because we're all working for the same ting. We just want to have a more cohesive ort of organisation so that we can more effectively.
How true are reports that the ethnic insurgent groups have offered help to the opposition movement? We have heard the same stories. We have hd no contact with the insurgents ... We should strive for internal peace for the country, but I'm not in favour of encdouraging people to contact the insurgents and involve them in this movement. I think that basically the people of Burma are capable of resolving their own problems. If we are united, we should be able to achive what we want.
Some inusrgents claim they've been fighting for democracy for 40 years. Well, they don't seem to have succeeded. I think the students have achieved a lot more ... The reason why the movement has been so successful is because everybody has been united in their demands. People say the opposition is divided, but the unity is incredible. After all, who has ever achieved 100% unity? The great majority of the people are behind the movement and that's an incredible amount of unity, especially in a country where we have never been allowed to form organisations to express our political opinions.
What about the practicalities of holding proposed elections in Burma? It's something that would take some time, if the government is really going to hold them properly. One wonders whether one can organise general elections within three months. I very much doubt it.
What are your chances of remaining united? We don't want the opposition to split up and I think there is a great chance we will remain united, especially since the developments last week [the Sept. 18 military coup and killings that followed]. People feel they really can't carry on beneath a government which is so irresponsble about their well-being.
Have you tried to contact strongman Ne Win? It's not possible [for us] to contact him. We don't know here he is, what he is doing, how much contact he has with the present lot [in power]. Offically, he's nowhere in the picture [but] the general feeling is that if ther's something sinister going on, he must be behind it.
What would be your involvement in any future government? I really can't say at this point. A lifetime in politics does not appeal to me, but how long is a life time? Obviously once you start a movement like this, you don't stop halfway and say, "That's it, I've had enough." You just stay there until it reaches a logical conclusion of some kind.
ASIAWEEK/ 7 OCTOBER 1988