Eyewitness Reports
Asiaweek, 26 August 1988.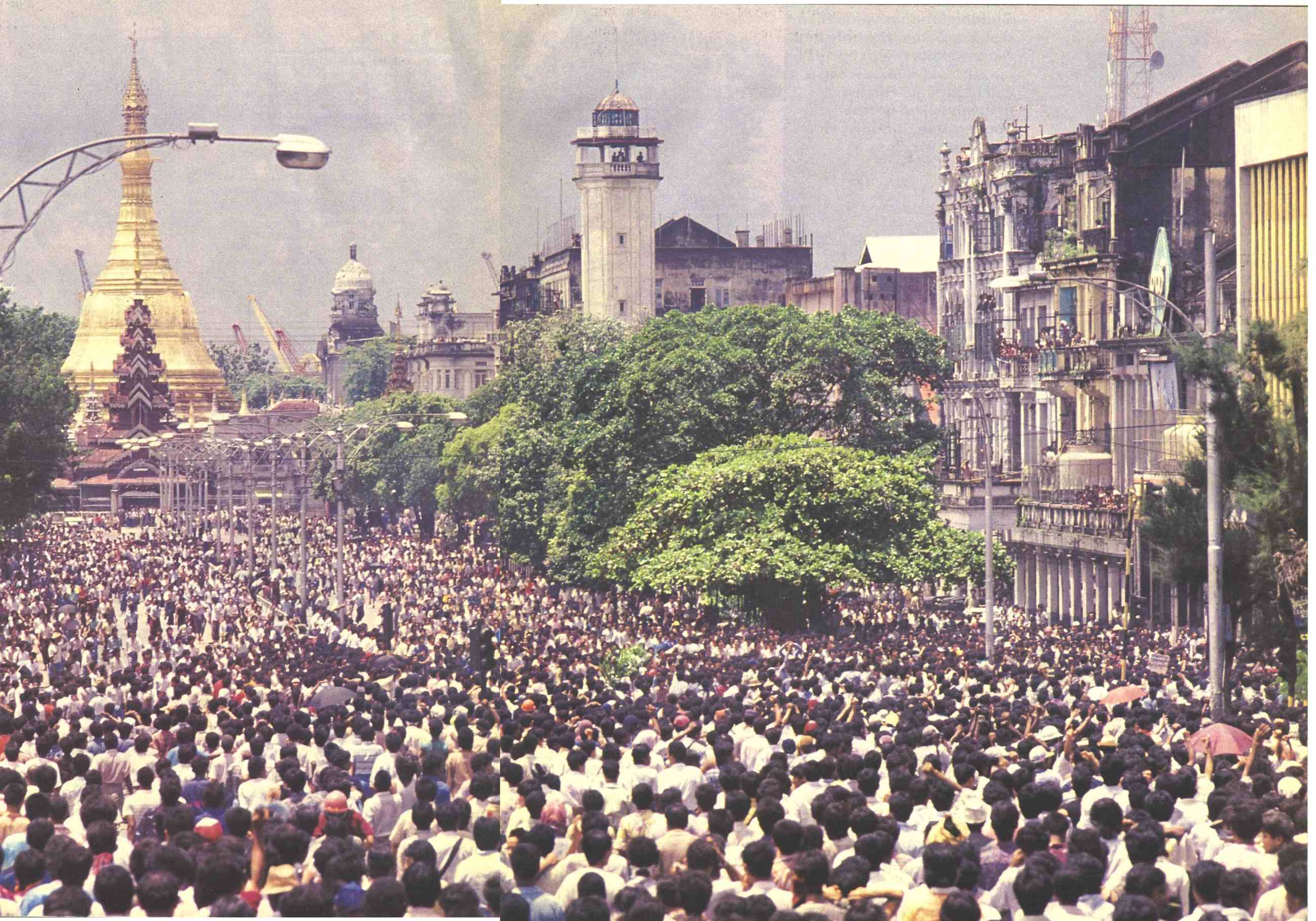 Its gold roof glistening, the Sule Pagoda rises above a sea of protestors in the heart of Rangoon. The 2,000-year-old Buddhist shrine was a key flash point. Demonstrators massed there instead of at premier Shwedagon Pagoda, which was bristling with armed troops. Clashes between soldiers and civilians also erupted at City Hall and at Rangoon General Hospital. In one incident at the hospital, several nurses and doctors were reportedly gunned down by soldiers for refusing to treat wounded comrades. by last week, the hub of protest had shifted to the hospital, which was being called a "free zone." Speeches and rallies continued there as the city waited for a successor to Sein Lwin to be named. Inside, staff turned away soldiers and party members. Medical supplies began running critically short. Radio Rangoon meanwhile broadcast diatribes aimed at turning opinion against the protest leaders. They were branded apyet phama, or destructive elements, the word used by the authorities to describe insurgents. But Burmese travellers said the populace seemed unswayed.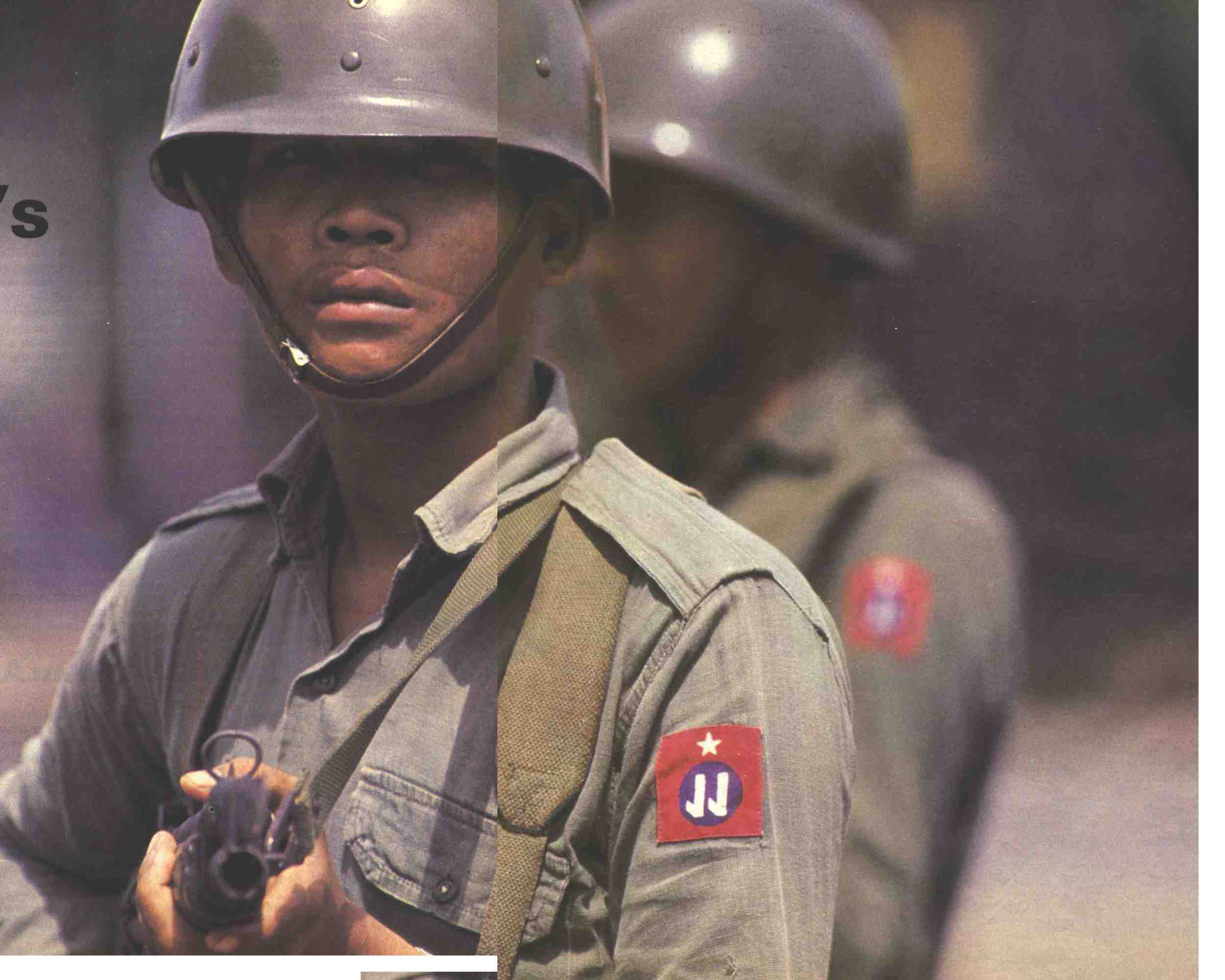 His rifle menacingly at the ready,l a soldier from Burma's 22nd Light Infantry Division patrols the streets of Rangoon Aug. 9 amid unprecedented turmoil. His combat-tested division was known for loyalty to Sein Lwin, the man at the centre of the storm, but even it could not prevail against an angry people. Late last month Sein Lwin had replaced Ne Win, the country's iron fisted leader for the past 26 years. But the appointment unleashed waves of bloody anti-government rioting across the country. "Burma\'s Hitler," some called the new strong man, remembering his brutal suppression of earlier uprisings. In less than two weeks, an estimated 3,000 Burmese died. Faced with such fury, Sein Lwin quits on Aug. 12.
Caught between bayonets and a barricade, demonstrators scurry for safety on Rangoon's Anawrahta Street Aug.9.Confrontation that day were among the fiercest since martial law was imposed on the capital Aug. 3. These people escaped largely unscathed; most of the blood flowed under cover of darkness.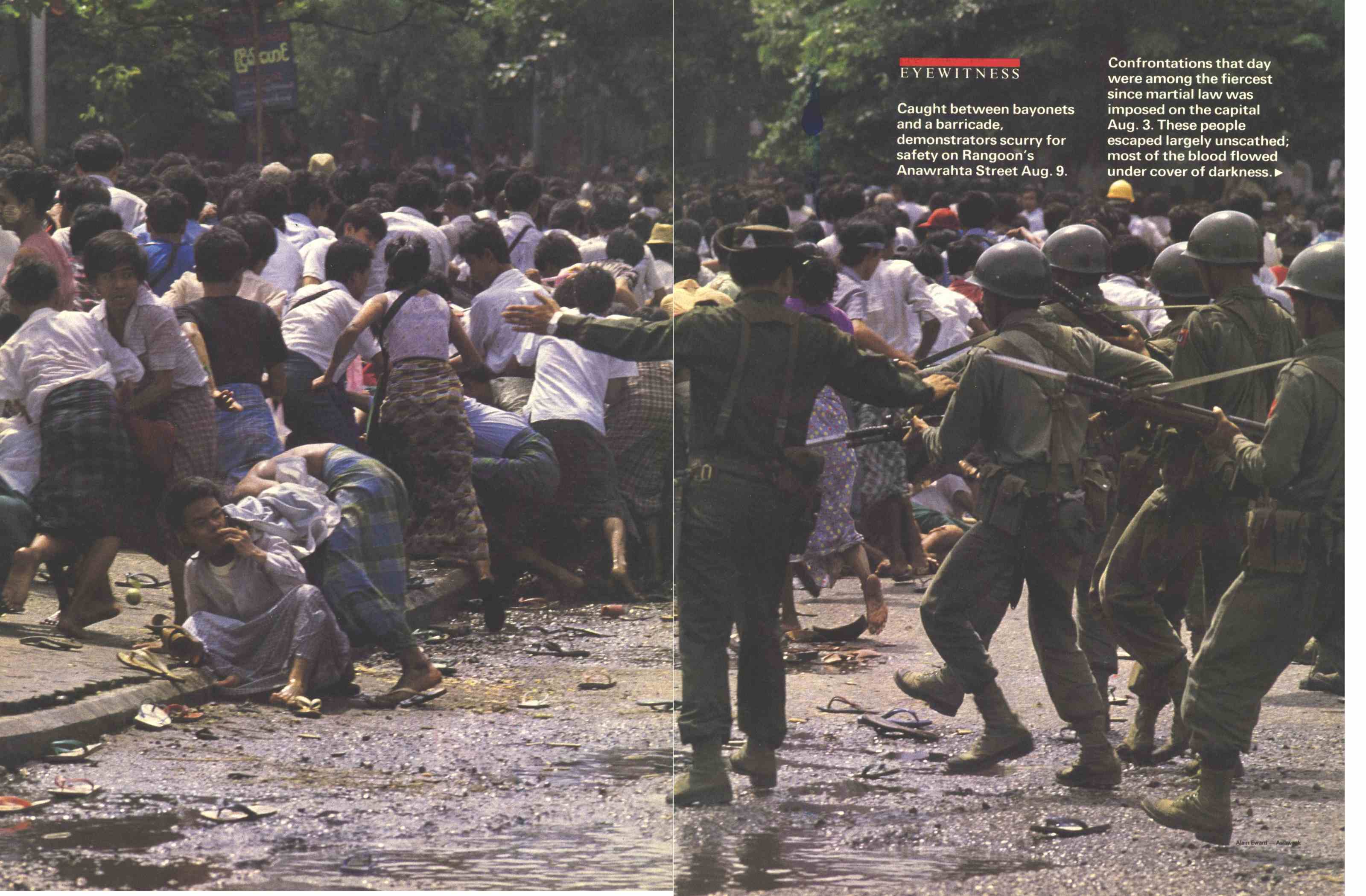 Flags of peace and defiance flutter side by side above Rangoon demonstrators. A portrait of Aung San, Burma's pre-Independence resistance hero, is a powerful symbol of the struggle for freedom. Burma's tumultuous experiment with democratic ideals after Independence from the British in 1948 set the stage for Ne Win's coup in 1962 -- and for one-party rule. Sein Lwin's departure rekindled demands for greater political freedom. On Aug. 16, students distributed leaflets calling for an end to the single-party system and for new protests before the People's Assembly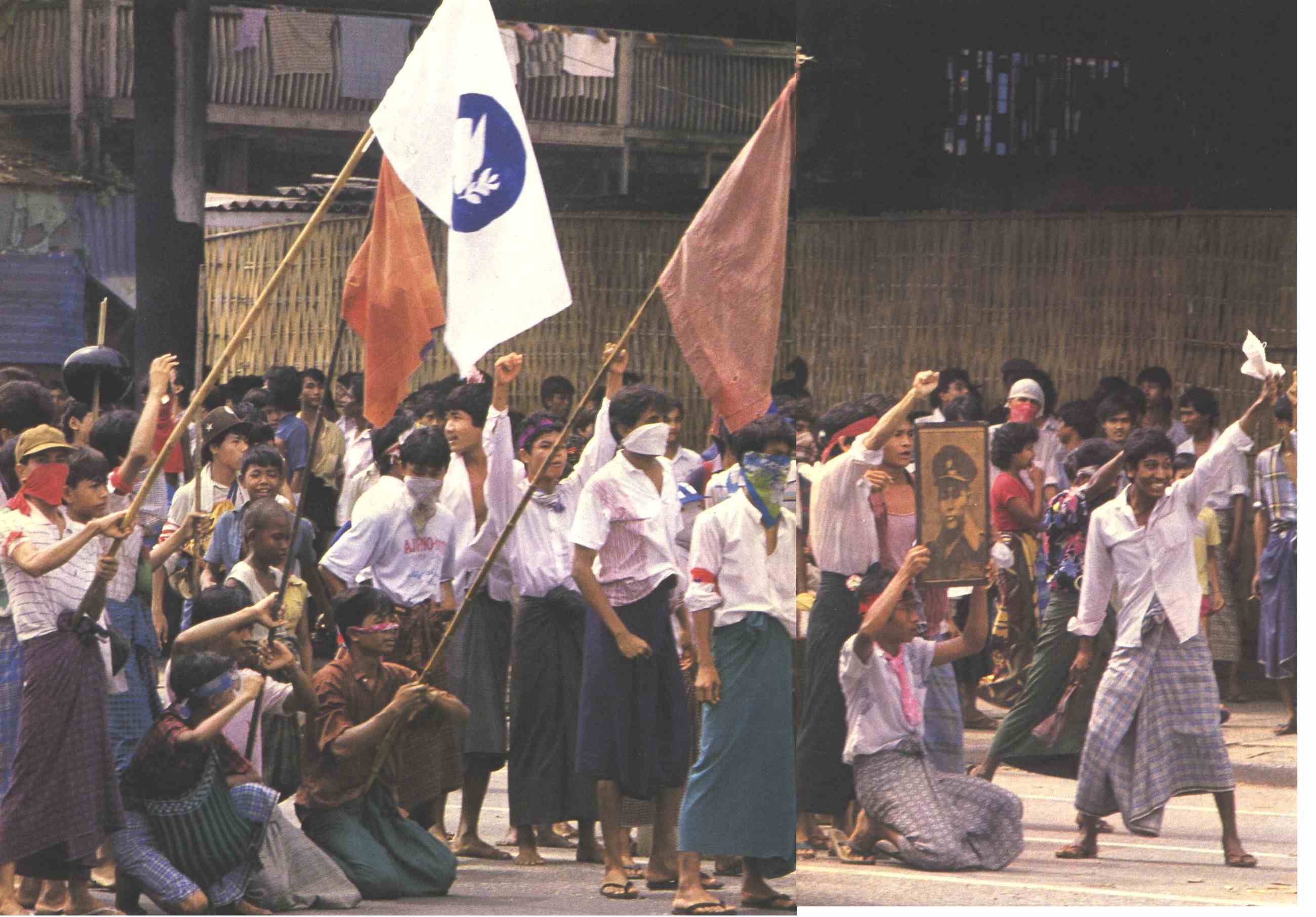 approved a new leader on Aug. 19. But many Burmese believed that Ne Win still controlled the BSPP, despite his resignation as party chairman. Therefore said analysts, whoever was chosen as leader would probably encounter popular opposition. Reports surfaced of angry Rangoon residents killing BSPP members suspected of spying for the regime. Many party officials last week were said to be living as virtual prisoners inside their homes while triumphant students outside called themselves min-ko naing -- conquerors of king.
Masked youths in Rangoon head a rally demanding Sein Lwin's ouster. Students were the instigators, but the protests were joined en masse by everyday people.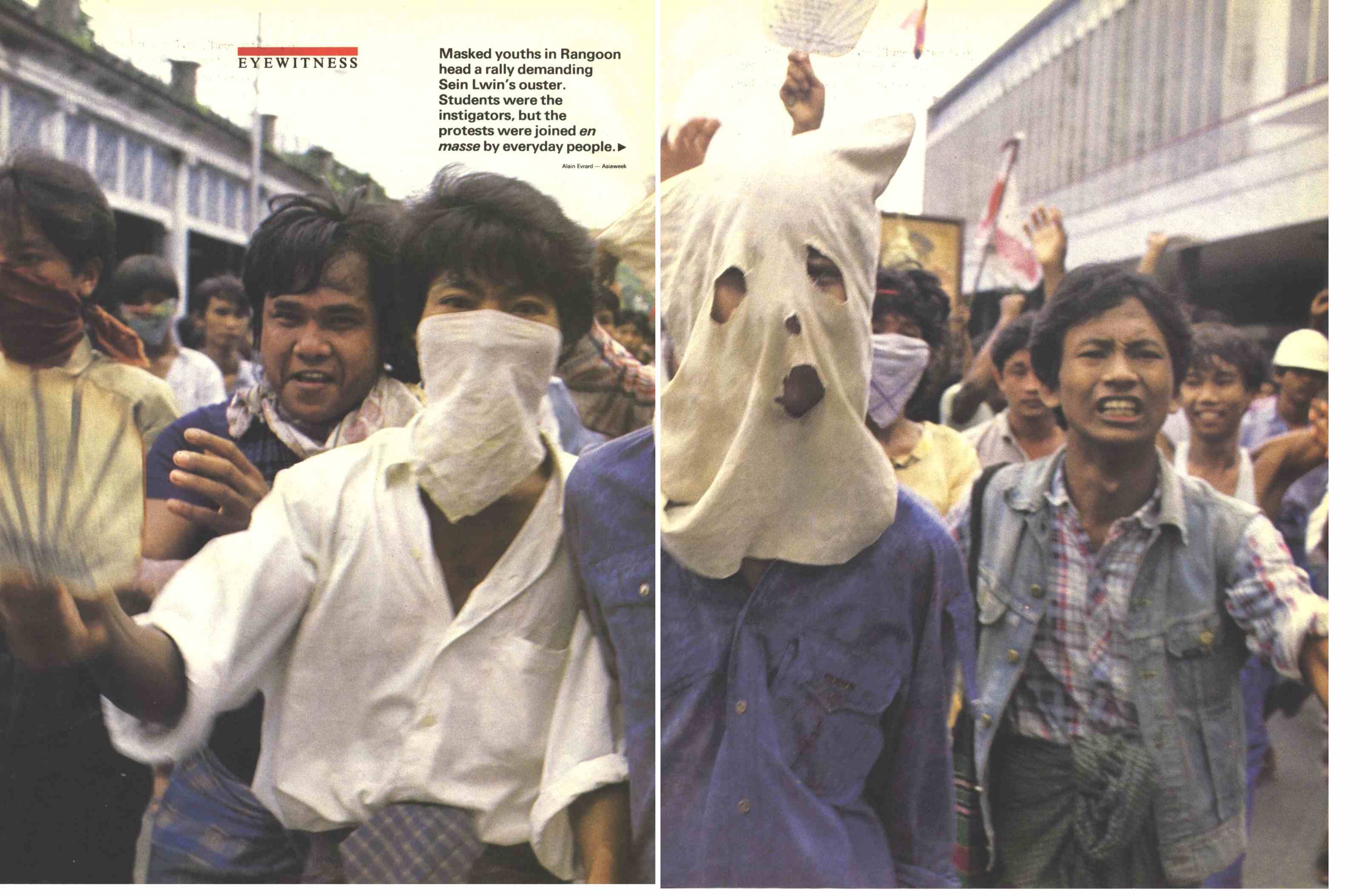 Keeping the crowds at bay, soldiers with assault rifles maintain an uneasy watch over the capital. Initial restraint by both soldiers and demonstrators soon gave way to a bloody clashes late Aug. 8. When word spread that troops had shot unarmed protestors, angry mobs retaliated with stones, petrol bombs and slingshot missiles dipped in poison or excreta. Three security policemen were reportedly beheaded in the suburb of Okkalapa. The violence quickly spread to more than 24 cities, from the far north to the deepest South. Demonstrators demanded an end to totalitarianism. Outgoing Ne Win, 77, had dangled the prospect of a referendum on a multi-party system. But the proposal was rejected by the Burma Socialist Program Party (BSPP),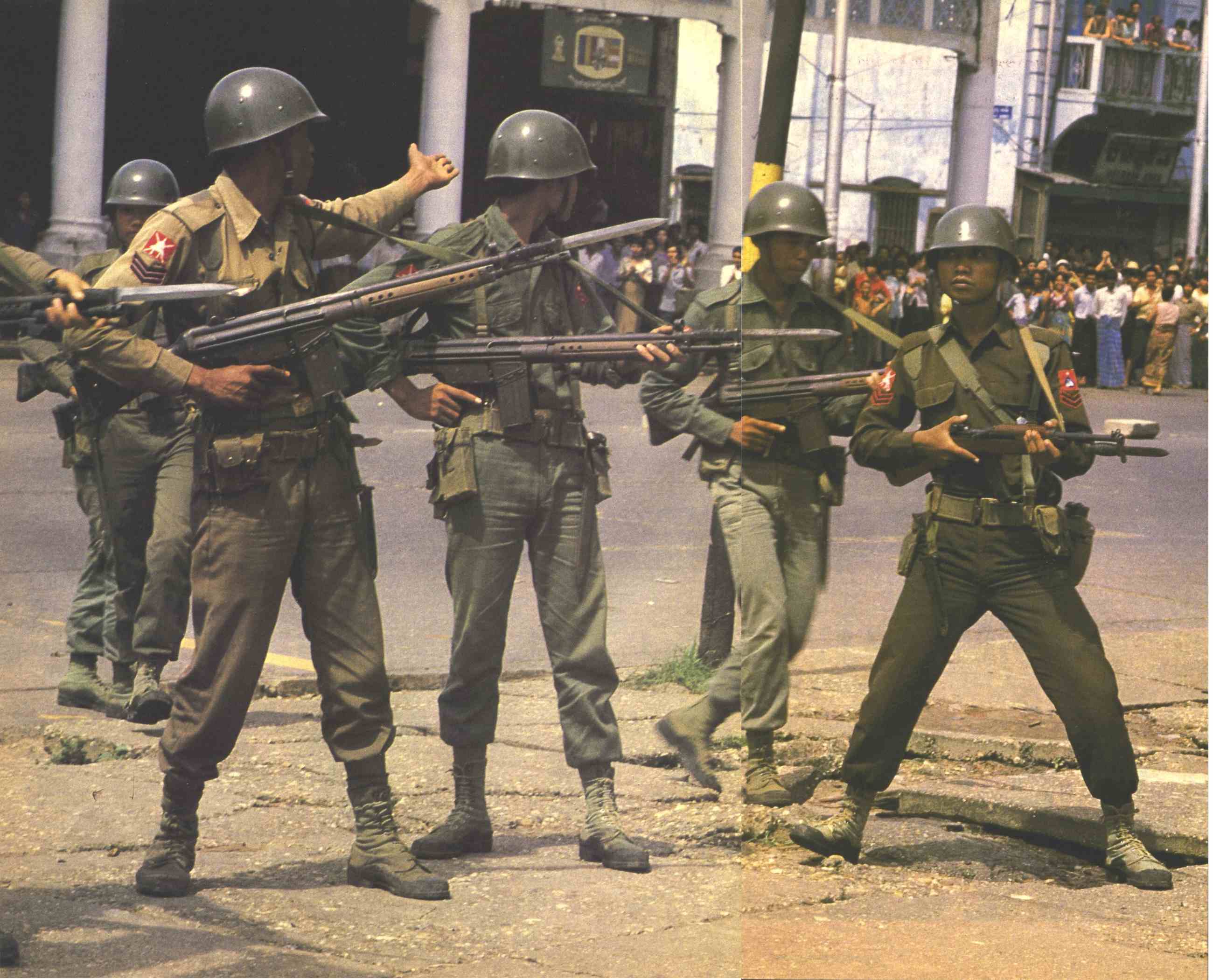 the country';s sole legal political group. The accession soon after of "Butcher" Sein Lwin, 64, was the last straw for frustrated Burmese. His resignation, after just eighteen days in power, cooled passions in the country for a while. But sporadic fighting soon broke out in a few towns. In Rangoon, law and order was said to have collapsed last week. People began stocking emergency supplies of food and water.
Fruit and vegetables were on sale in relative abundance in late July in Pegu, 80 km north of Rangoon (above). But food shortages had reportedly worsened by last week. Rice supplies have been a chronic problem in a country that was a premier exporter of the stable at the time of Ne Win's coup. Much of the unrest was fuelled by soaring prices of foodstuffs. During the protests, the authorities sold off rice and cooking oil to keep prices down and deflect discontent. But the move came too late. Last week people were reported looting rice stores. Whoever emerged as leader would need to take urgent action on economic reforms approved by the party when Sein Lwin (seated, on right) took over. Among them: encouragement of foreign and private enterprise. However, many analysts remained skeptical over whether the current ruling group had the talent -- or the time -- to show results. Holding the fort in the interim was Vice-President Aye Ko.
ASIAWEEK, 26 AUGUST 1988.