Asiaweek, 16 December 1988
Breaking Up the Party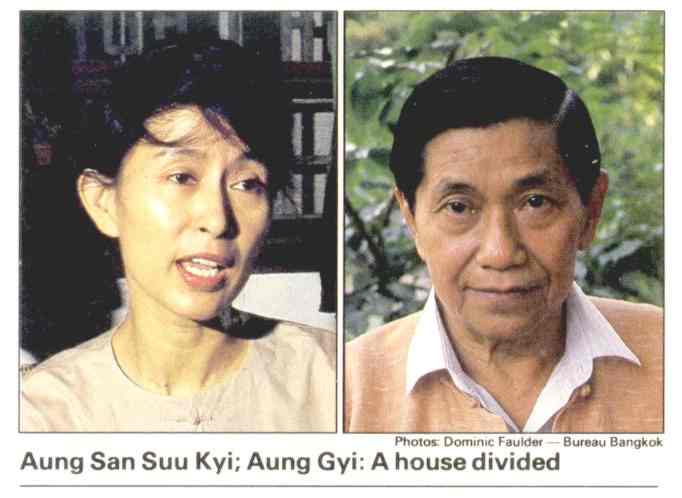 Leading dissident Aung Gyi built his reputation on letters. Earlier this year, he wrote a widely circulated series of missives to Ne Win which were highly critical of the strongman's regime. The helped galvanise the Burmese opposition and propelled Aung Gyi, a retired brigadier-general, to the chairmanship of the National League for Democracy, the country's top opposition group. Aung Gyi is back to writing again. But this time, one of his letters has sparked a deep rift in the NLD. Delivered to party general secretary Aung San Suu Kyi on Nov. 25, Aung Gyi's letter decried the presence of eight alleged communists in her faction of the NLD. They were engaging, he wrote, in "activities damaging to the League." He demanded their expulsion.
Aung San Suu Kyi refused. The third partner in the NLD leadership, Gen. Tin U, said nothing. That prompted Aung Gyi to hive his faction out of the NLD and apply to the election commission for registration of his own Union National Democracy Party. The NLD expelled Aung Gyi on Dec. 3, confirming a split that could reduce its membership by as much as a third. Analysts say the break-up had been looming for some time. Although united in their opposition to Burma's military regime, Aung Gyi and Aung San Suu Kyi are ideologically opposed. Aung Gyi's long military career under Ne Win was fueled by fervent anti-communism, while Aung San Suu Kyi's liberalism has been criticised by party conservatives. Personal differences exacerbated the problem. "It was hard to see Aung Gyi as a coalition leader," said one Western diplomat in Rangoon. "He always saw himself as the top figure of the opposition." His departure might not faze Aung San Suu Kyi. Observers expect her to firm her grip on the NLD, capitalising on her popularity.
Aung Gyi's UNDP adds one more set of initials to a roster of new political parties that continues to burgeon. The tally on Dec. 3 stood at 157. In efforts to reduce the unwieldy numbers, coalitions are being actively sought. Even as the NLD was splitting apart, nineteen other parties were forming themselves into the Coalition League for Democratic Multi Party Unity. More than 40 others are reported to be negotiating with the Anti-Fascist People's Freedom League. The AFPFL favours former Premier U Nu as coalition leader.
The opposition disarray brings comfort to the Saw Maung government, which has yet to announce a date for promised elections. Many now doubt elections will take place until the regime is sure of retaining power. Towards that end, the government continues to introduce some economic reforms, including allowing advertising on state-run media for the first time in 26 years. Last week television viewers were bemused by a dozen ten-second advertising spots, including one in which a local pop singer touted a certain herbal remedy as "the cure for cancer." But even that potent potion may not be enough of a panacea for Burma's divided opposition.
ASIAWEEK/ 16 DECEMBER 1988.