A Brush With Anarchy
Asiaweek, 9 September 1988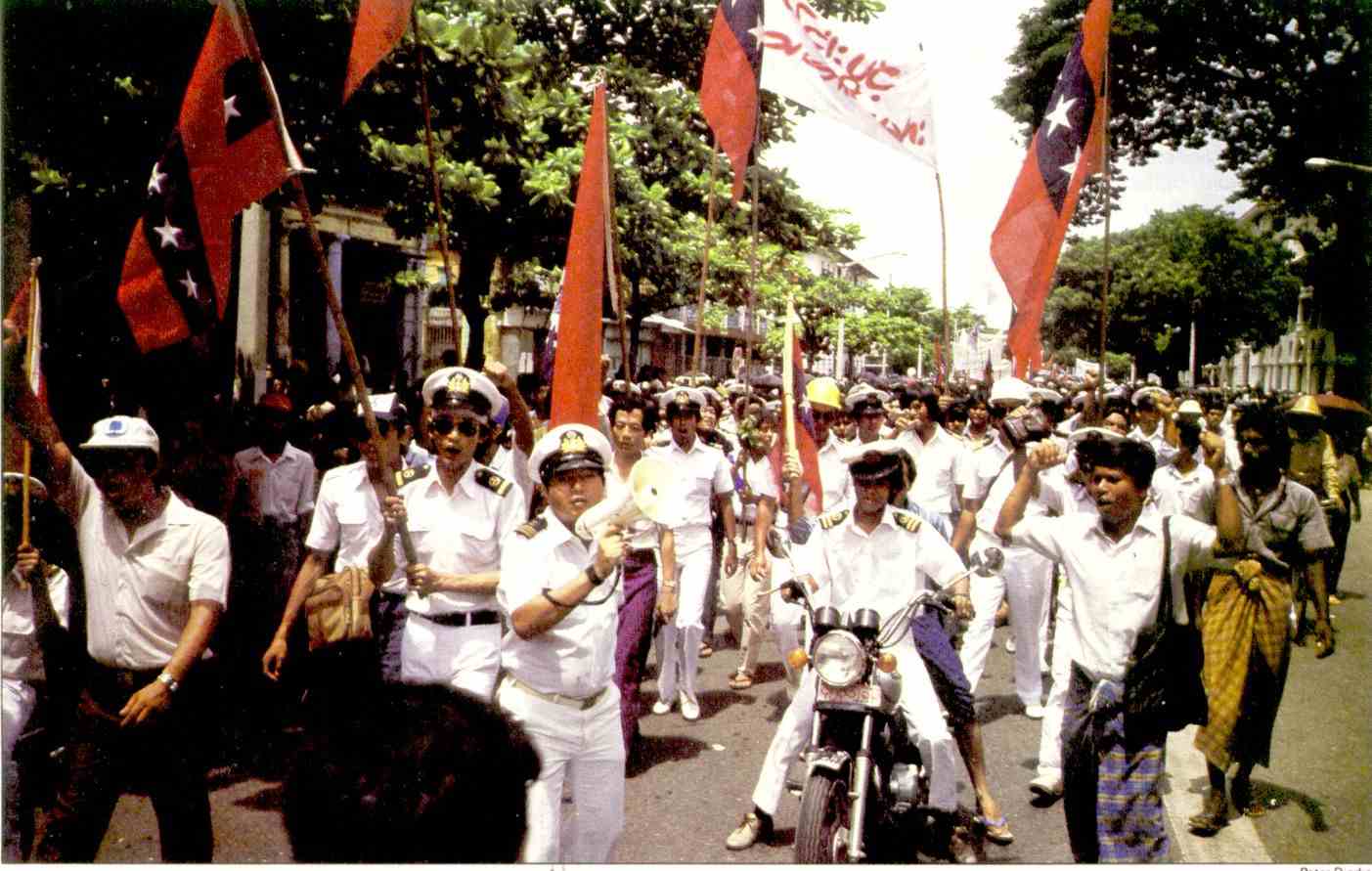 The mood was euphoric. Crowds of People chanted and sang as they swamped the streets of Rangoon, massing beneath banners that expressed their hope that there would soon be an end to one-party rule. "We want a multi-party system," read one. "Democracy is at hand", said another. Some demonstrators waved the national flag upside down wore scarlet headbands to symbolise defiance. Bands of red-robed Buddhist monks, students and factory workers drove round the Burmese capital in open trucks, cheering and shouting. "It was like a carnival," recalled one eyewitness. "There was great happiness." The cause for celebration was the Aug. 24 lifting of martial law, imposed on the city three weeks earlier. The same day, Maung Maung, the country's newly named president, announced in a nationwide television and radio broadcast that the ruling Burma Socialist Program Party would hold an emergency session by Sep. 12 to decide on adopting a multi-party system; the people, he said, would have their say later in a referendum. If the BSPP accepted a plural system, he said, the entire party leadership would resign.
Maung Maung's announcement was seen as a major concession by the hundreds of thousands of Burmese who in recent weeks had braved bullets and bayonets in the country's biggest protests ever. The sustained agitation had earlier forced the ouster of two leaders. First to go was Ne Win, the strongman who ruled Burma for 26 years before his abrupt resignation on July 23. Next was the hated Sein Lwin, known as "the Butcher" for his brutal suppression of earlier uprisings, who quits on Aug. 12 as the popular call for his ouster mounted. The new leader had weighed his words carefully. "It looks as though he has put before the public a plea to be patient," noted one Western diplomat. To convince those still sceptical about his intentions, Maung Maung ordered the release from prison next day of prominent dissident Aung Gyi, who had been arrested last month as unrest flared.
Within hours, Aung Gyi, once a Ne Win confidant, was testing the freer atmosphere. He addressed a crowd of some 200,000 cheering supporters at a playing field close to his home in Sanchaung, a middle-class Rangoon suburb, urging calm in the increasingly chaotic situation. "I demand President Maung Maung ... form an interim government immediately to avoid anarchy and bloodshed in the country," he called out. "We agree," chorused the crowd in enthusiastic response.
Other opponents of the government were beginning to take the cue as well. the next day, Aung Gyi's message was echoed by another emerging opposition figure, Aung San Suu Kyi, the daughter of the country's revered founding father Aung San. People began to crowd around Rangoon's sacred Shwedagon Pagoda at 6:30 a.m. for her 10 a.m. speech. The throng, estimated at half a million by the time she arrived, prevented her from getting to the dais and she had to begin an hour late. There were few dry eyes among the crowd as the slim academic called for moderation. She asked people not to turn against the army, which had returned to the barracks after martial law was removed. "Democracy can only be obtained in a peaceful and unified way," she said in an impassioned speech. "No one should resort to violence and bloodshed. There should be no more killing of students, soldiers and people."
The opposition pleas for calm came as Rangoon was crippled by a general strike and other key cities, including Mandalay, were being taken over by local groups. There was a growing fear that Burma was sliding into anarchy. The official radio reported extensive looting of rice, cement and oil from stores in the Roangoon area. In the southern towns of Tavoy and Mergui, protesters put several government buildings to the torch and rallies continued across the nation to demand greater political reform. Uniformed government employees were out in force and some demonstrations were even joined by local BSPP officials. Adding to the turmoil were breakouts from major prisons in Mandalay, Bassein, Sittwe and at Insein, the main jail for Rangoon lawbreakers. On Aug. 28, the authorities released some 4,800 Insein inmates following three days of riots and arson. State-run radio said 57 convicts were killed and many more injured in the mayhem, but unofficial sources put the death toll at more than 1,000.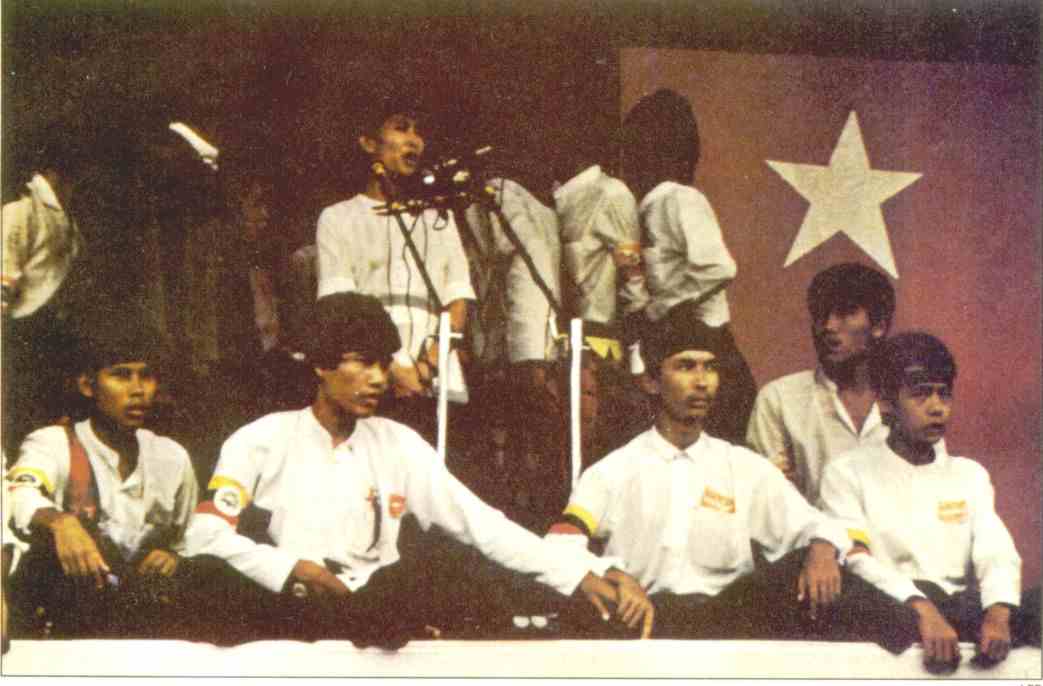 In the capital, policemen and soldiers seemed to have lost their grip and citizens' committees patrolled the streets instead, setting up bamboo barricades and keeping awry eye open for looters. "People are keeping indoors as much as they can." said one source in Rangoon. Many had been frightened by reports that two military agents had been caught carrying bombs which they planned to throw into the milling crowds. The army was also suspected of stirring other trouble. "The Burmese believe the looting is being carried out deliberately by the military to break law and order," said a Rangoon-based diplomat. Leaflets circulating in the capital last week featured photographs of captured looters who had apparently confessed to being army stooges.
The lifting of martial law gave an opportunity for opposition forces to organise. They young people who had spearheaded the protest movement, beginning with the demonstrations against the demonetisation of large currency notes last September, formed the All Burma Students' Union (ABSU), flouting a longtime ban on such organisations. About 50,000 students gathered on Aug. 28 at Rangoon University, traditionally a hotbed of political activity, to pledge to continue the fight for democracy. A temporary fourteen member executive committee was named, with Min Ko Naing as chairman. The founding of the ABSU rekindled a strong gsense of nationalism. In 1930, the All Burma Student Movement had defiantly organised countrywide strikes against the British rulers and spearheaded the Independence movement. But the unions ran afoul of Ne Win's authoritarian regime and were outlawed in the mid-1970s.
Min Ko Naung (a pseudonym meaning "conqueror of kings") insisted that the new organisation was not interested "in participating in the government." But sources said the union leader, who is the son of Independence struggle hero Bo Yan Naing, had formed a clandestine political party called the National Democratic Front with Cho Cho Kyaw Nyein. She is the daughter of U Kyaw Nyein, a former deputy prime minister in the government of prime minister U Nu whom Ne Win overthrew in a coup in 1962. The front had reportedly proposed ten names for an interim cabinet, including that of Aung Gyi.
The 70-year-old former brigadier general publicly ruled himself out. "I'm too old," he said. "And I have a heart ailment." but sources say he is optimistic that the promised referendum will be held one week after the extraordinary BSPP congress, and will in turn be followed within 40 days by national elections. If that happens, observes thin, Aung Gyi could well change his mind about taking on the mantle of leadership. They point out that he has a huge groundswell of popular support. Several letters he wrote to Ne Win beginning last September urging political and economic reform were widely circulated and helped spark the fury against the strongman's regime. Past allegiances, however, may return to haunt Aung Gyi. Some analysts have said that many Burmese would not be able to forget the ex-officer's old links with the BSPP.
Aung San Suu Kyi, on the other hand, has the advantage of her father's name. Described by those hho know her as articulate and intelligent but also vindictive at times, she was always conscious of the Aung San mystique. Even though it was unusual for children to use parents' names, she tagged on her father's infromt of her own. People who know her recall that she once said her destiny was to participate in Burma's future. Married to a briton and living in England, when was in Rangoon to visit her ailing mother when burma started to boil. "The moment was ripe, so she seized it." said a source. Although she has been compared to Philippine President Corazon Aquino and Pakistani dissident Benazir Bhutto, many observers believe she has no serious political ambitions. They say her appeal to the masses is as a symbol of hope in the vacuum left by leaders of the near-collapsed government.
Other were preparing themselves for a more formal role. On Aug. 29, some of the old guard who long ago fell out with Ne Win formed a coalition called the Committee for Democracy and Discipline. Proposed by ex-premier U Nu, its top brass included the well-liked ex-gen Tin U, sacked as defence minister by Ne Win in 1976, and Mahn Win Maung, Burma's second president. Observers said the inclusion of Mahn Win Maung an ethnic Karen, was significant because some of Burma's minorities have been waging a war for independence for the past 40 years and have registered a willingness to join the agitation against BSPP rule.
While U Nu's committee seems set on upholding order and setting in motion a smooth transition of power, the groups behind Aung San Suu Kyi and Cho cho Kyaw Nyein seemed to be pushing to overthrow the Maung Maung administration. Another group, the committee for the Restoration of Democracy in Burma, which moved its base from the U.S. to Bangkok last week, was said to be ready to join U Nu's coalition.
As Burma felt its way towards a political denouement, one niggling question remained. Where was Ne Win? Newspapers in India and Bangladesh reported that the former strong man had crossed into Bangladesh and was staying at a motel in Cox's Bazaar, a seaside resort some 300 km sough of Dhaka. According to the Bangladesh Observer, thousands of people converged on the motel but were told by police that Ne Win was not in town. Burma watchers reckoned that the ex-president was in fact still living in his heavily-guarded villa on Rangoon's Inya Lake. They believed that he was covertly controlling the government from his luxuries hideout, perhaps waiting for an opportunity to bounce back into power. Other fears lurked in Burmese minds as the country seethed with tension. "There are rumours of a military coup," said a source in Rangoon. "They are getting strong day by day." Warned Michael Aung thwin, a Burmese -American historian: "If the disorder continues, it will be the perfect excuse for the military to step in as they did in 1962.
ASIAWEEK, 9 SEPTEMBER 1988.